My friend Peter had sent me this link with a question, "I don't understand how people can still believe this sh1t…"
https://www.skynews.com.au/world-news/new-coronavirus-mutation-detected-in-botswana-south-africa-and-hong-kong-raises-concerns-for-experts/news-story/52f13ea6d0ce2a42e3342ef2a6980226
My wife with her friends (most of them not Peruvian) was distributing material about the facts of this plandemic and the truth about the depopulation jab last night and they were all surprised at what they have learned while talking to the local Peruvian public.
Most of them ( here in Tarapoto, almost all of them) were jabbed twice, some of them experiencing "side effects", and preparing themselves for the third jab anyway.
When asked why did they got jabbed, the answer was to protect themselves from COVID and the information about all of this came through the Tel a lie Vision, radio, and the medical staff.
Everybody has a smartphone, and no one uses it for anything else but to share selfies and trends.
There is a vaccination center here and every time we pass by it, we can see thousands of people lined up in a long chain waiting to be jabbed.
We have become dumber than the animals.
Sheep has to be corralled before vaccination or slaughter or they will leave, but the dumb human willingly forms the line and extends its arm to be jabbed even after experiencing the bad effects of the previously received jab.
Jews are correct, the goyim (the non-Jewish human) is lower than an animal, only, as we can see, the Jewish population is one of the most vaccinated, so who are the goyim here, exactly?
People become stupid as they separate their spirit from their soul. By ignoring God (soul), they immerse themselves into the world of fear, greed, and envy that is controlled by their ego/spirit.
In disconnect, there is nothing to hang onto, nothing to use as a supporting mechanism so the only thing left is the fear.
People start rationing based on a lesser fear.
This is why a pregnant woman that has aborted after being jabbed is back in the line of another jab so that she does not lose her baby the next time she gets pregnant.
Can you find any sense in this type of reasoning?
No reasoning can suppress fear. This is why fear is promoted, and if you have nothing to hang onto, the fear will consume you.
Fear is the most powerful weapon that evil is using in its quest for enslavement.
The fastest way of spreading it is through the media and entertainment which the evil is in control of.
This is why the fear of COVID and other viral infections will exist as long as the evil controls the media.
We have two main sources of media.
One is the Major media because the majority of people follow it and trust the information that is provided through it. The main distribution of such news goes through Tel a lie Vision.
Then we have the alternative media which has a way lesser following, and it is not allowed to be presented on the Tel a lie Vision.
The only way to get to it is through the Internet.
A great majority of people rely on the information they receive through the TV because they use the Internet to share selfies and play games and not to look for the truth.
If by accident they stumble onto the truth, they are being told that what is contradictory to the TV exposed information is a conspiracy theory, and they leave it at that.
Since the indoctrination of lies is effectively being distributed through the schooling indoctrination centers, the more educated we are, the more mislead we become.
This shows us the reason why everyone who is watching the Tel a lie Vision, no matter how educated they are, is willingly accepting to be poisoned through the depopulation jab and finds the reason why it should be jabbed again even if he/she had a terrible experience after being jabbed by the same mad-sin a month earlier.
Globally controlled Major media/TV news stations are all controlled by four Israeli families.
Since the great majority of sheepish people are incapable of stopping to watch the Tel a lie Vision,
a surgical military strike is necessary to cut this cancer out.
Once this s done, everyone will be forced to see the truth.
There is only one truth and it has to be presented without being manipulated and misrepresented with lies to which we refer as another version of the truth.
There are no versions of truth but there are versions of reporting it.
All reporters that have been deliberately misrepresenting the truth by reporting lies are accountable and will be persecuted for the crime their lies have caused and the lives lost because of them.
Here in Peru, in an interview, the Minister of Health said that 90% of COVID death (180.000) on the national level, were people that were not vaccinated or had received only one vaccine.
On top of this, he said that t0% (20.000) have died from which 90% were not vaccinated or had only one jab.
This is obvious misinformation since statistics show that most of the covid deaths occur in vaccinated people, and when you take into consideration that virus does not exist, 100% of covid deaths come from vaccinations.
Being misled and not investigating because let's face it, selfies are more important, now teenagers are lining up for the jab.
A thousand of them are now lining up streets like sheep, but no corral is necessary. They are totally oblivious to the times they live in.
What a shame.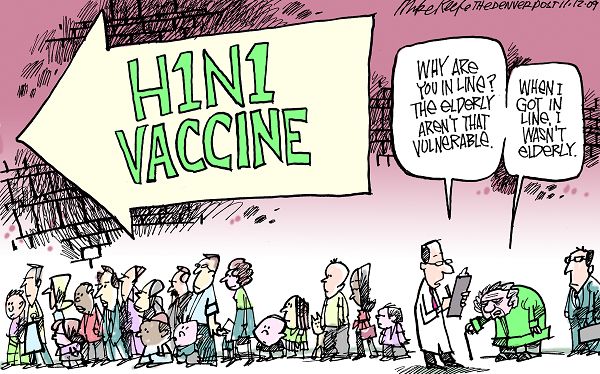 If we have to punish all those responsible for what is happening with this mass poisoning of the population, we would end up imprisoning almost all teachers, doctors, politicians, journalists…
There are not enough accommodations to do this.
When we add pedophiles to this list, half of the population will end up being jailed.
What an interesting time we are living in.
Resist, hold the light, the celebration of our victory is approaching.
Love and light to us all.